The Chicago Tribune: John Mellencamp's Opening Night At The Chicago Theatre Was Full of Messages and Music
John Mellencamp dared ask a recurring question Thursday at a sold-out Chicago Theatre: What kind of country do we want? Playing the first date of a three-night stand, the singer-songwriter put that query directly to the crowd and indirectly through song.
Amid an unfiltered 125-minute performance filled with rambling monologues, self-deprecating jokes and sage advice, Mellencamp suggested some answers. He professed hope that people could come away with a semblance of community. And when he turned political, he spared no quarter for the left or right — a sense underlined by a profanity-laced appeal to end the bitter divisiveness polarizing the U.S.
It seemed par for the course for a heartland musician who in the late '80s telegraphed his greater ambitions — and refusal to capitulate to convention — in a biting tune that became a Billboard Top 20 hit: "Pop Singer." That same ornery spirit permeated the show, spurred the crack six-piece backing band and prompted Mellencamp to keep throwing punches. It also proved that no matter how much he insisted he was done fretting over things that don't impact him, Mellencamp can't shake a fundamental problem: he cares too much to follow such a creed.
Seemingly free of pretense, Mellencamp has spent the majority of the past three decades going about the music business on his own terms. In the process, he quietly amassed one of the most conscientious and fertile catalogs of the modern era. At 71, he continues to prioritize creativity over commercialism, releasing spare albums anchored by incisive songwriting, rustic arrangements and a deep appreciation for history.
That learned approach extends beyond music. Embracing ideals espoused by two of his heroes — Woody Guthrie and a younger Bob Dylan — the Indiana native remains an outspoken critic of racism and inequality.
Mellencamp's website
currently contains a potent, self-authored statement about gun control, pro-life hypocrisy and indifferent politicians. He alludes to some of these issues in the paintings he's created, whose imagery frequently ties to his lyrics.
John Mellencamp interacts with fans at Chicago Theatre at the April 13, 2023 show in Chicago. (Shanna Madison / Chicago Tribune)Mellencamp tapped into his connections to both mediums in a half-hour concert-opening film that featured clips from classics such as "The Misfits," "The Grapes of Wrath" and "A Streetcar Named Desire." The latter inspired the stage backdrop; for all intents and purposes, Marlon Brando's style probably influenced Mellencamp's signature look: back vest, white shirt, black pants.
Not that the singer harbors any illusions about youthfulness. Mellencamp spoke with candor about his age and prospects for survival — he claimed he'll live 10 more years if he gets lucky. He spoke like a man who has learned some lessons the hard way, and who accepts the consequences without cries for pity or attention. Many of the characters inhabiting his songs faced difficult truths in similar manners.
Identity, pride, purpose, trust, understanding: These motifs coursed through Mellencamp's narratives, songs whose simplicity occasionally gave the impression they stemmed from a distant past removed from today's distractions. Yet the frank, straightforward chronicles of regular folk and their habits ("Check It Out"), dreams ("Paper in Fire"), contentment ("Pink Houses") and wisdom ("Minutes to Memories") felt particularly vital in an age where many struggle on the margins — and many others game the system and turn a blind eye to anyone's plight but their own.
Deceit, disappointment and loss clung like an odor to many of the songs. The twisted "I Always Lie to Strangers" went so far as to trumpet treachery; "Crumblin' Down" addressed the fallout of rule-bending and disrespect. Punctuated with dramatic pauses and thick blues, "John Cockers" rebuked values, embraced isolation and welcomed death. Sent up with three guitars, "Rain on the Scarecrow" sounded raw and desperate, its bleak landscapes still recognizable.
Mellencamp also benefited from a secret weapon: fiddler Lisa Germano, a former collaborator who joined him on tour for the first time in 29 years.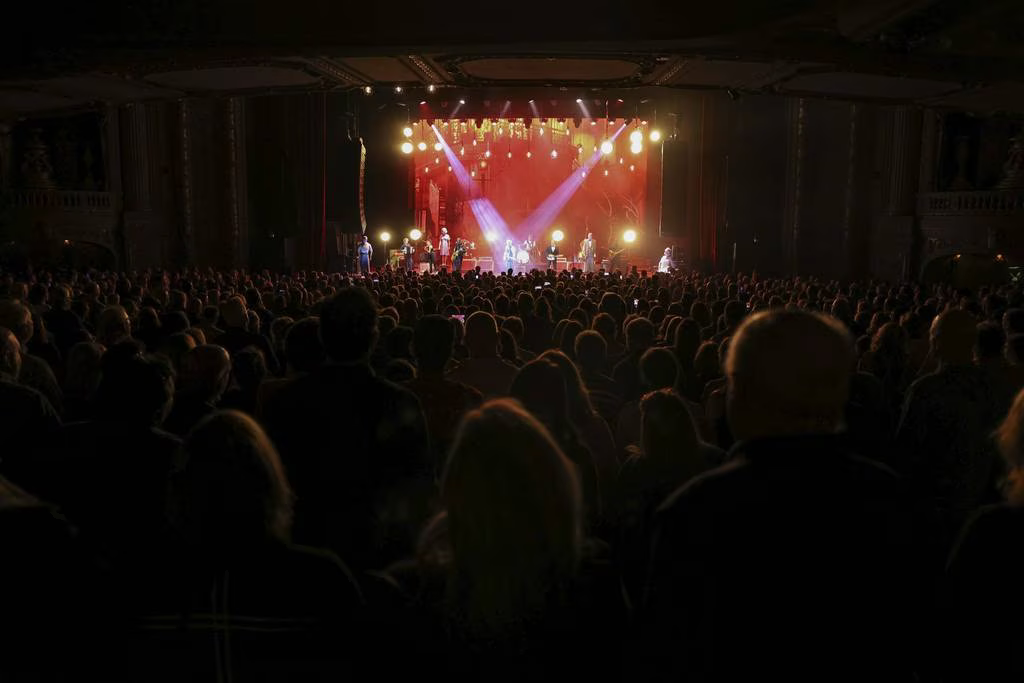 All night, Mellencamp and company held a mirror to American society. Except for the two-stepping slide of "Cherry Bomb," nostalgia took a back seat to the here and now. Choosing not to play nearly a dozen of his Top 40 hits, Mellencamp recast the smash "Jack & Diane" as a solo acoustic number about boredom that welcomed audience participation. The bittersweet beauty of "Jackie Brown" belied the story's tragic arc. Akin to many songs, it blended Appalachian, folk, rock and spiritual elements — and touched on mortality.
The singer opted for an even more direct route on two of three new, unreleased compositions. Awash in death, "Hey God" functioned as a plea for deliverance from senseless gun violence. Preceded by a story about his encounter with a 20-something homeless woman, the solo acoustic "The Eyes of Portland" took aim at the empty "thoughts and prayers" condolences offered as a solution to major tragedies and dilemmas.
His tones deepened and roughened by decades of cigarette smoking, Mellencamp sang with a pronounced rasp. Though intelligible, save for select verses, his deliveries evoked a building exterior coated in centuries of airborne soot: stained, dark, choked. He was smart enough to hand the highs to his bandmates or the crowd; in certain ways, the grittier vocals suited the material and mood.
So much for those old concerns about being a pop singer. At this juncture, Mellencamp is anything but — and that's high praise.
Setlist from the Chicago Theatre April 13:"John Cockers""Paper in Fire""Minutes to Memories""Small Town""Hey God""Human Wheels""Jackie Brown""Check It Out""The Eyes of Portland""Longest Days""Jack & Diane""I Always Lie to Strangers""The Real Life" (read by Joanne Woodward)"Rain on the Scarecrow""Lonely Ol' Night""Crumblin' Down / Gloria" medley "Pink Houses""Chasing Rainbows""Cherry Bomb""Hurts So Good"